Mixing big laughs with high drama, Good Will Hunting is one of the best films of the 90s. We're heading to Boston with 20 incredible facts about Good Will Hunting.
A film with a screenplay by two novices and an arthouse director doesn't usually spell Oscar and box office gold, but Good Will Hunting achieved both in 1997. It catapulted the careers of Matt Damon and Ben Affleck, making them household names for the next 25 years.
We've got the full behind the scenes story of Gus Van Sant's academic drama, by way of 20 incredible facts about Good Will Hunting.
---
1. Write about what you know
Matt Damon and Ben Affleck had been friends since they were kids. Damon studied at Harvard; he took a playwriting class but wrote the first act of a movie instead of a play. He flunked the class and moved out to Los Angeles, where Affleck was. He moved in with him and they set to work on his script.
Affleck said "I've always been insecure because I only had a little bit of college and knew people from fancy schools. All that resentment in Good Will Hunting about people who went to college came from me feeling on the fringe." He was also instrumental in highlighting the social disparity of the stuffy Harvard academics and the working-class Bostonians.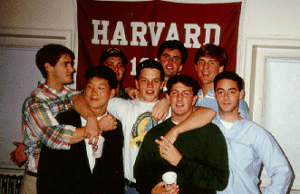 Matt Damon with his buddies at Harvard
---
---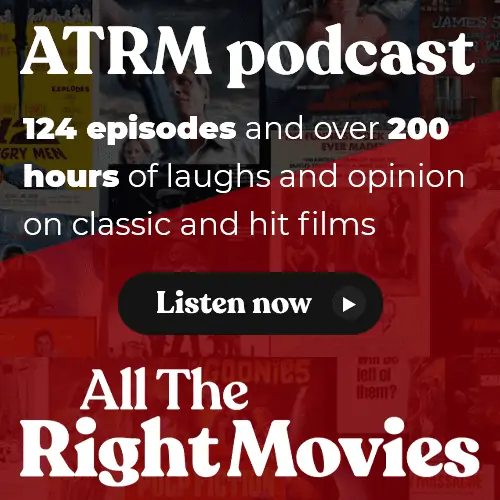 2. First drafts of the screenplay were very different
The first incarnation of Good Will Hunting had Will and his buddies evading the government all over town because they were after Will's brilliant mind. The shrink and Will's relationships were part of this script too. Affleck said that it was in the mould of Beverly Hills Cop (1984) and Midnight Run (1988).
The script was hot property and after a bidding war, Rob Reiner's production company, Castle Rock, acquired it for $600,000. But they immediately demanded re-writes as they had a problem with that government angle. Reiner said there were two films in the script that couldn't live with each other so one of them had to go, the character study or the government action thriller.
---
3. Two big stars could have landed the lead roles
Damon and Affleck made re-writes but grew so frustrated with Castle Rock not reading them, that they added in some out of context sex scenes between Will and Sean to see if they noticed, they didn't. Castle Rock also didn't like Damon and Affleck for their respective roles. The actors that they wanted were Brad Pitt and Leonardo DiCaprio. Leo would have just starred in The Basketball Diaries (1995), Pitt would have been coming off the back of Se7en (1995).
As time went on, Castle Rock gave an ultimatum, find someone else to buy the script and give us our money back or we're going ahead without your involvement.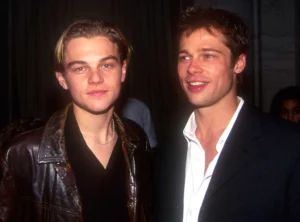 Brad and Leo in 1995
---
---
---
4. The screenplay found a new home
Affleck took the script to Kevin Smith, who took it to Miramax, who loved it. Harvey Weinstein called them up and had two notes. The first one was to remove an element from the script where Will plays chess in a few scenes. And the second, he told them "you've gotta lose those sex scenes between Will and Sean." They knew they'd found the right home.
Miramax took their time to progress the project until Damon got the lead in The Rainmaker (1997). And when Robin Williams came on board, they fast tracked production.
---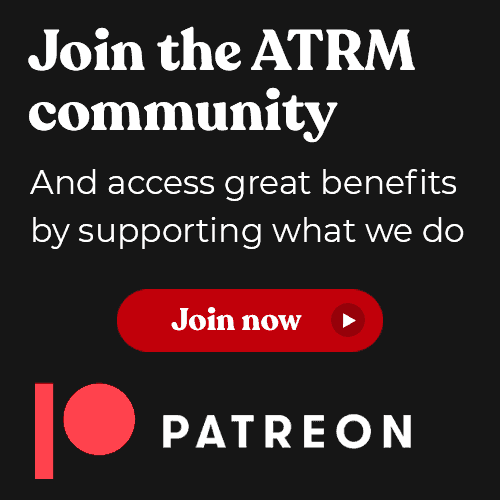 5. Advice from a legendary screenwriter
Rumours have circled around the film since its release, that William Goldman helped write the script, uncredited. He said the reason for this this is that nobody wants to believe that these "two cute guys wrote this script." He was friendly with the two, so he read the script and he did offer some advice, lose the government angle.
The only scene that was left over from that sub plot is Will's interview with the NSA.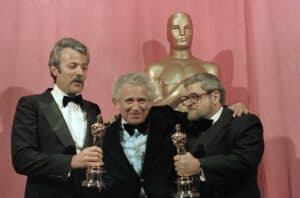 William Goldman (left) in 1970
---
6. Directing options
Gus Van Sant wasn't first in line for the job of directing Good Will Hunting. Kevin Smith was asked to direct by Affleck. Smith said that the material deserved a better director but agreed to come on as an executive producer.
Top of Miramax's list was Mel Gibson, coming straight off the back of Braveheart (1995). Gibson met up with Affleck and Damon, who hadn't seen Braveheart. Weinstein told them to say how much they loved it to get on his good side. It worked. Gibson was developing the film for quite a while before Damon had a word with him about how long it was taking. He said that he and Affleck were getting old and wouldn't be able to play the parts. Gibson understood Damon's point and moved aside.
---
7. Damon and Affleck wanted Van Sant
Steven Soderbergh was wanted for a while before Michael Mann came to the party. He wanted to make a couple of drastic changes. He thought Will and his crew should be car thieves and he didn't want Damon in the lead. The producers got Mann to agree to screen test Damon, and he still didn't like him. The producers did, so they parted ways with Mann. And this is the point where Van Sant came in, a suggestion of Damon and Affleck because they thought his style was perfect for the material.
Good Will Hunting is Van Sant's most successful film to date. Not only that, it made just $9 million less than all of his other 16 films combined.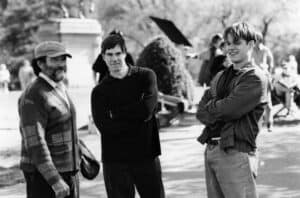 Van Sant on set with Williams and Damon
---
8. A very different ending?
Near the start of the film, Will and his buddies get into a fight with Carmine Scarpaglia. In an early draft of the film, Carmine and his crew come back at the end of the film and kill Good Will. It would have been just as he's setting off for San Francisco. Damon said "Will, deep down actually wanted to be killed. It was his way of getting out."
Will and his buddies fight Carmine Scarpaglia
---
9. The locals didn't take to kindly to the cast
When Robin Williams signed up for the role of Sean, he wanted to take in the sights, sounds and smells of South Boston, and asked Damon and Affleck to show him around. They took him to a bar called the L Street Tavern. They were engulfed by everyone in the bar giving them abuse. One asked Williams where his yacht was, another started a fight with Affleck because he had a baseball cap on backwards.
They got out unscathed, but Williams loved it and suggested to Harvey Weinstein that they use the bar for the Harvard bar scene. He got his wish but Weinstein called Affleck and Damon up and told them "don't take Robin to any other locations."
The Harvard bar scene
---
10. Inspiration from Brando
In the Harvard bar scene, Morgan (Casey Affleck) says "I swallowed a bug." This line comes from an obscure reference point. It's a line that Brando says in Apocalypse Now (1979), but not the film. It's in the Apocalypse Now making of documentary, Hearts Of Darkness (1991). In one of the takes, Brando stops mid-take because he's got something in his mouth and says "I swallowed a bug."
Brando in Hearts Of Darkness
---
11. The role of Morgan was created on set
Van Sant was instrumental in bringing Casey Affleck on board in the role of Morgan O' Mally. He was impressed with his work on his previous film, To Die For (1995). Originally, Casey was going to make a documentary on the making of the film. He didn't have an agent or manager so Van Sant just kept on at him until he said yes. He improvised most of his dialogue.
Casey Affleck in To Die For
---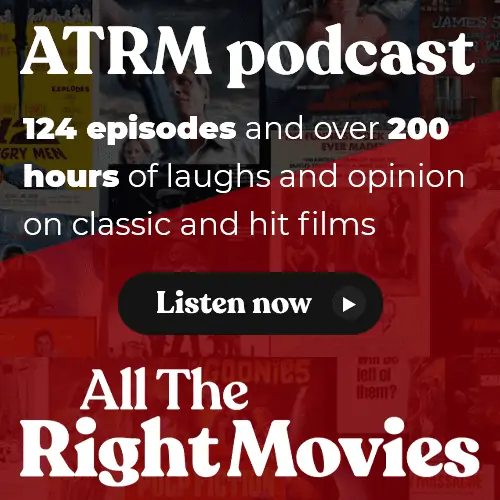 12. Skylar was based on a real person
The role of Skylar was inspired directly by Damon's then girlfriend, Skylar Satenstein, who he met while at Harvard. Just before filming started, she left him for Metallica drummer Lars Ulrich. Damon later said that he lost the love of his life to "a f-ing rock star who's got $80 million and his own jet. A bad rock star too."
He didn't waste any time in the relationship department, he and Minnie Driver dated briefly before splitting up after the film's release.
Matt Damon and Minnie Driver out on the town
---
13. Bad hair day
At the time, Damon was a fan of his frosted tips curtains hair that he's donning in the film, but he views that very differently now. More recently he said "If you look at Ben's hair in that movie, it's totally acceptable by today's standard. But no, I wanted the frosted f-ing hair. I don't know what my problem was. I looked like I should be singing backup for Color Me Badd."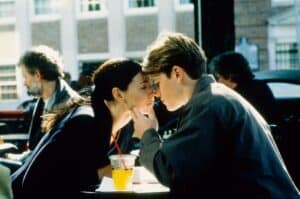 Damon with his frosted tips
---
14. Sleeping on the job
The scene where Will and Skylar are in bed and she's talking about being an NBA player. Will is sleepy in this scene and mumbling quite a lot, this is because Damon was actually asleep. There's a lot of footage of Skylar without Will in shot, Van Sant just shot around him being asleep.
Will and Skylar in bed
---
15. Your move chief
In the park scene with Will and Sean, there were thousands of people around watching the scene play out because word got out that Robin Williams was filming there. Van Sant's direction to Williams during this scene was simple, "keep talking."
That bench is now a memorial to the memory of the great Robin Williams.
Will and Sean at the park bench
---
16. No chance of a PG-13
Midway through production, Miramax floated the idea of making the film a PG-13 and explained to Damon that to do that, there couldn't be more than 3 F bombs in the script. Damon said "so how many are we over", the Miramax executive checked his notes and said, 145.
---
17. Tears of joy
When shooting started, one of the first scenes was the bar scene with Robin Williams and Stellan Skarsgård. Damon says "when Gus called action and we watched these guys do our scene verbatim, we had waited so long for this to happen. I remember just sitting next to Ben and I had tears rolling down my cheeks because I was just so happy that it was really happening."
Skarsgård and Williams in the bar scene
---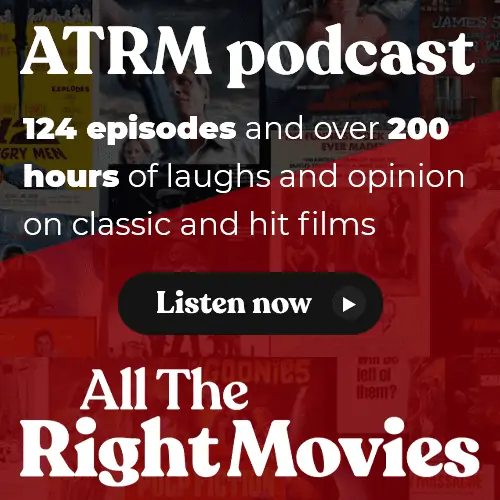 18. Robin Williams' on set antics helped Stellan Skarsgård
Skarsgård loved working with Robin Williams because, by his own admission, he wasn't great at improvising, and he was working alongside the king of improvisation. He said that Williams kept on messing up his performance which is a good thing because "you get a little stiff, too skilful and too elegant if your performance doesn't get messed up by someone. And he was really good at that."
Williams would play out each take from a scene as a different person. In one take he would be Jack Nicholson, and the next he'd be Jimmy Cagney. Williams carried this on for about six takes before gradually becoming the character of Sean.
---
---
19. Terrence Malick helped out with ending
Director Terrence Malick is the man who Affleck and Damon credit the ending of the film to. Affleck knew him because he was friends with his godfather. They went to see him and explained the plot of the film, at this stage, Will and Skylar leave together at the end of the film. Malick suggested Will go after her instead, it was inspired by the work of Michelangelo Antonioni. He said "in Italian movies, a guy just leaves town at the end and that's enough." Damon and Affleck loved it.
---
20. Oscar gold
Affleck and Damon used some underhand tactics, in some people's eyes, in the lead up to the Academy Awards. They printed out copies of the final Good Will Hunting script for the academy voters to refer to when watching the film. A practise not commonly used but it worked. Affleck and Damon picked up the Best Screenplay Oscar and Williams won Best Supporting Actor.
Ben Affleck was 25 when he won the Oscar for Best Screenplay, making him the youngest person ever to win the award. And Matt Damon was 27, he's the second youngest person to win the Academy Award for Best Screenplay.
Damon and Affleck winning the Best Screenplay Oscar
---
And that's the end – 20 interesting facts about Good Will Hunting, Gus Van Sant's surprise box office hit, with one of the best screenplays of the decade. Please share on your social media channels, and subscribe to our YouTube channel for lots of great video content.
---
The beginning of a beautiful friendship
Stay up-to-date with all things All The Right Movies by signing up for our e-newsletter.