One of the biggest war movies ever made, and a Spielberg classic, we're here to dissect and have some laughs in our Saving Private Ryan review.
Saving Private Ryan is one of the most popular, successful, and acclaimed war movies ever made. Steven Spielberg directed the movie, telling the story of a Normandy invasion company and their brief to go behind enemy lines. Their mission: to find the only surviving brother of four, and get him home. Westy, Matt, and John have hit the beach to talk in depth about the classic film, and have some laughs along the way.
Saving Private Ryan is mostly acclaimed for its incredibly visceral and realistic depictions of the horrors of warfare, particulary around its opening Omaha Beach landing sequence. The narrative, thematic depth, visuals, and acting are all highly thought of too, however, and all of it is up for discussion on our episode. Take a look now.
---
Subscribe to our YouTube channel
---
About the episode
We've not created a typical Saving Private Ryan review. We aim to provide big laughs, and big opinions as we tell the making of story behind the classic film. We break the episode into chapters, each covering the main filmmaking elements of the movie.
On our Saving Private Ryan Review, we discuss Steven Spielberg as the director of the movie. We talk about the briliant craft and how it became a personal passion project to him. We also go all in on the two main cast members and how instrumental they were to the film's success.
That's Tom Hanks as Captain John Miller, and Matt Damon as the Private he's saving – James Francis Ryan. Robert Rodat wrote the film's script, and we talk about the qualities of the screenplay, as well as Rodat's inspirations. And we then each choose our highlight scene or sequence from the movie. Matt talks about the famous Omaha Beach Landing and its status as part of movie history. Westy waxes lyrical about the assault on the Rade Tower that results in the sad death of a team member. And John talks about the final climactic action sequence, the Batte at Ramelle, and how it is often unfairly overlooked.
Watch the full video above of our Saving Private Ryan review. If you like what you see, please visit our YouTube channel to subscribe, share, comment and like.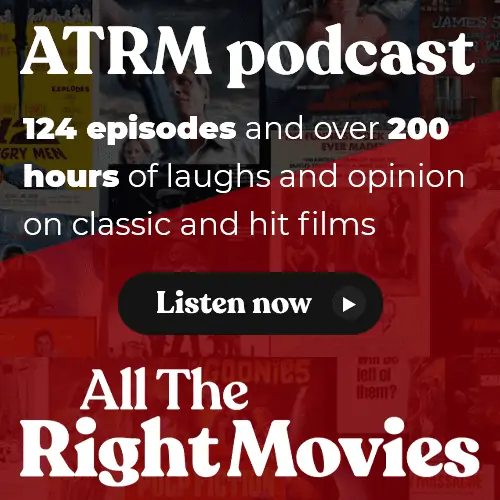 The beginning of a beautiful friendship
Stay up-to-date with all things All The Right Movies by signing up for our e-newsletter.