Se7en shocked audiences in the 90s, and its influence can still be felt in cinema today. We're revisiting David Fincher's classic in our Se7en review.
After the disappointment of his directorial debut, Alien 3, David Fincher vowed never to direct features again. That is until he got his hands on Andrew Kevin Walker's outstanding script for Se7en. He brought together an excellent cast, led by Morgan Freeman (William Somerset) and Brad Pitt (David Mills), two detectives who are on the trail of a diabolical serial killer, exacting his criminal masterplan using the Seven Deadly Sins as a blueprint.
Se7en shocked audiences in the 90s and is still a highlight from the decade. Westy, Matt and Luke are investigating the behind-the-scenes story of the film, with some big opinions and big laughs thrown in for good measure. Watch our Se7en review below.
---
Subscribe to our YouTube channel
---
---
---
About the episode
Our Seven review delves deep into the film and its creative forces. We discuss David Fincher's work as a director on his second feature. We talk about one of the great screenplays of the 90s by Andrew Kevin Walker. In the cast, Luke talks about Morgan Freeman's magnificent turn as the world-weary Det. William Somerset. Westy talks about the eager to impress idealist Det. David Mills played by Brad Pitt. And Matt takes the difficult task of talking about Kevin Spacey's chilling portray of John Doe.
We then pick out our highlights from the film. A tough decision but Matt talks about the Gluttony scene. Westy went with the dramatic chase scene between Mills and Doe. And Luke picks the iconic 'what's in the box' end scene.
All of this with the usual behind the scenes stories, big laughs and opinions.
Watch the full video above of our Se7en review. If you like what you see, please visit our YouTube channel to subscribe, share, comment and like.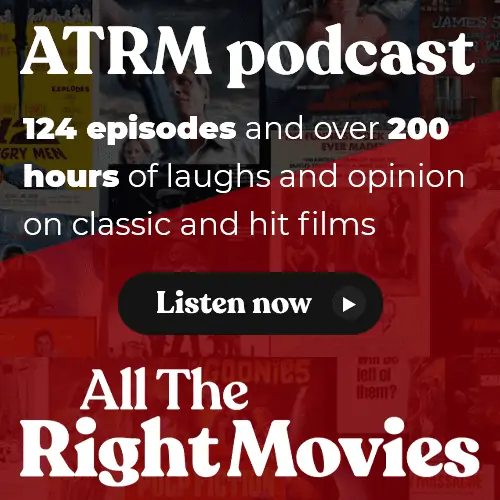 The beginning of a beautiful friendship
Stay up-to-date with all things All The Right Movies by signing up for our e-newsletter.